Description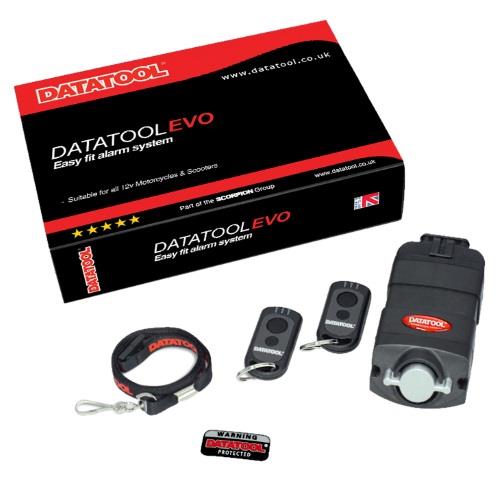 Datatool Evo 'Self Fit' Alarm System
Datatool Evo (Pt No: 02000145)
* Easy fit, movement sensing and voltage sensing alarm system
* No soldering required, connects direct to battery
* LED status light provides visual deterrent
* Supplied with 2 remote transmitters
* Movement sensitivity adjustable via remote control
* 24 month warranty 
The Datatool Evo is an easy to fit alarm system designed for motorcycles and scooters with a 12v battery. Using a sophisticated movement sensor, the Datatool Uno constantly monitors for signs of unauthorised movement, triggering the loud integrated siren when the movement exceeds the permitted level. The movement sensor can be adjusted via the remote control to one of three levels to customise the alarm to your preference. 
The Datatool Evo also monitors the battery voltage, triggering the alarm if the voltage rises suddenly indicating the engine has been started and also provides visual notification of a low battery by reducing the flash rate of the deterrent LED. 
In addition to adjustable movement sensitivity, the Datatool Evo also features: 
* Transport Mode: Ability to arm without movement sensing if the bike or scooter is being transported.
* Alarm Diagnostics: If the alarm has triggered whilst you were away, the Demon Evo will bleep a code to  tell you which input caused the trigger.
* Panic Mode: The ability to trigger the alarm from the remote control
* Automatic Rearm: With this optional feature enabled, the Demon Evo will rearm automatically if the alarm is disarmed and the engine isn't started within 30 seconds.
* Arm/Disarm Tones: Another optional feature, the Demon Evo can be programmed to 'chirp' on arm and disarm and there are 2 options on the 'chirp' volume. Note: Certain countries including the UK require alarms to arm/disarm silently, check legislation for your country.
* Optional Seat Switch / Luggage Loop: Separate trigger wire which can be used in conjunction with a magnetic seat switch or inline connector to extend the level of protection. 
The Datatool Evo is supplied pre-wired with an inline fuse and terminals ready to connect direct to the vehicle battery and the LED is a plug-in connection meaning no soldering is required to install. In addition to the deterrent effect of the LED, the Datatool Evo is also supplied with a 'Protected by Datatool' decal to highlight to potential thieves that security is installed.