Description

Please email us with your Bike Make, Model and Age before purchase so we can check the availability and stock situation for you.
The all new iQSE is here! Please ensure you download the specific iQSE app for android rather than the original QSE version on Google Play Store.
For iOS devices search "Healtech"
The World's first iPhone & Android programmable quickshifter!


New from Healtech Electronics
'QuickShifter Easy'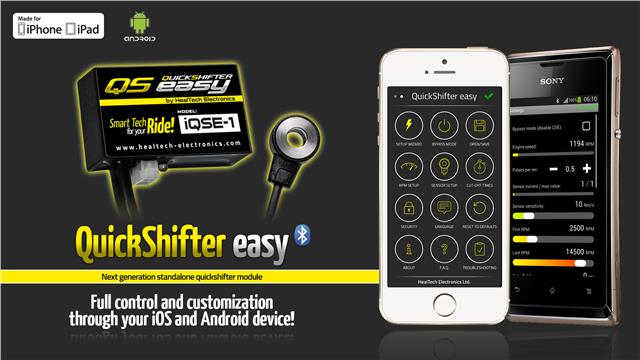 FEATURES
As easy as it can get!
This product was designed with the average rider in mind to make the installation and setup as simple as possible yet it has all the features only the best quickshifters have.
Supreme compatibility
One sensor that works on all motorcycles, also with reverse (race) shift pattern. Universal and model specific plug 'n go harness kits are available. Compatible with all our products too.
Small, yet powerful
The QSE sensor and QSE module comes in a small package, so you don't have to sacrifice your under-seat storage space.
Wireless connectivity
The QSE is the only quickshifter module on the market which utilizes Bluetooth technology and iOS/Android app for setup and verification. Can even be disabled with a few taps if you wish.
Check out the video of the Quickshifter Easy in use here: