Description
OXFORD OXIMISER 3X
Advanced Battery Management System
Slight mark on the glass hence price!!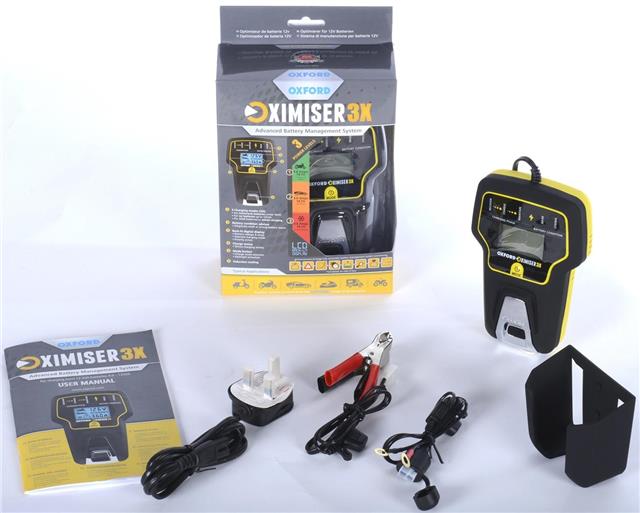 • Re-designed and tested in the UK with 2 year warranty
• Soft-start charging mode for batteries as low as 8volts
• Ideal for all 12V automotive batteries inc. Lithium LifeP04, Lead Acid, Gel, Calcium and AGM. This makes it suitable for charging batteries ranging in size from 4Ah up to 125Ah (motorcycle batteries under 36Ah)
Oxford Oximiser 3X Advanced Battery Management System. UK
Maintain the life of your battery with this 8 stage automatic battery management system. With crocodile clips, weatherproof fuse holder, wall bracket & screws, plus a permanent connector with weatherproof cap all included as standard, this is the perfect set for any rider.
• Soft touch rubberised case for improved grip & ruggedness
• Suitable for all 12V automotive batteries including Lithium LifeP04
• Re-designed & tested in the UK using top quality long-life components
• Intelligent charging will cycle-charge to recover sulphated batteries
• New voltage sensors quickly detect high current drain & will automatically revert to the most appropriate charge rate
• Fast & efficient charging in all modes keeps charge times short & reduces mains power consumption
• A sort-start charging mode to improve recovery of deeply discharged batteries as low as 8volts